Remember that all international shipments are insured and have a tracking number. You are 100% safe!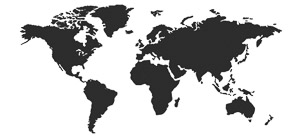 Familiarize yourself with the rules of international sales:
You can place an order online at RoundMount.pl store.
Payment:
Payments for international orders are made via the Paypal payment system. You can pay directly from your Paypal account or via a debit / credit card in any currency. The institution responsible for currency conversion will be Paypal or your bank. The settlement currency is Złoty Polski (PLN).
Delivery time:
All shipments are carried out from a warehouse in Poland via Poland Post. Declared delivery time is 3-11 business days. According to the carrier's rules, in the case of a lost parcel, complaints can be submitted 14 days after the delivery time has been exceeded.
Cost of delivery:
It is 39.00 PLN throughout the world, excluding the territory of Poland. You are 100% safe because all parcels are insured and have a tracking number.
Duties and other taxes:
All the above-mentioned costs do not include customs and other taxes that the customs office in your country may impose on you. Please contact the relevant tax authority for information. (Does not apply to European Union countries)
Contact and order service:
We work from Monday to Friday from 9:00 am to 4:00 pm local time (GMT+1). Contact with us is possible only in Polish and English language.